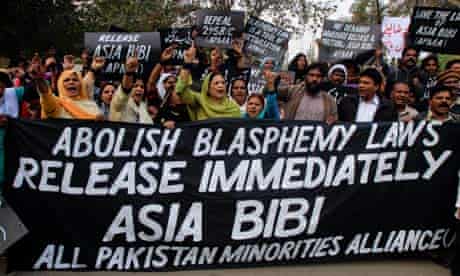 Supporters of All Pakistan Minorities Alliance chant during a rally calling for an end to the blasphemy laws and the release of Asia Bibi. Photograph: KM Chaudary/AP
Top Clinton officials ridicule Catholics in the emails and call their faith "severely backwards", fuelling fears of a modern Kulturkampf.
But it's no surprise that left-wing elites despise Catholics and Christianity, in general.
That's why we are berated constantly about Islamophobia while the plight of the most persecuted religious group in the world is ignored.
Christians could soon be extinct from whole swathes of the Middle East and Africa, ethnically cleansed by Islamists.
In Pakistan, for instance, Christian mother of five Asia Bibi has been on death row for six years, convicted of blasphemy after drinking water from the same bowl as Muslims while picking berries.
Last week, Liberal Senator Eric Abetz and Australian Christian Lobby boss Lyle Shelton took on her cause, meeting with visiting British Pakistani Christian Association chairman Wilson Chowdery, who wants Australia to tie its $47 million annual aid to Pakistan to blasphemy law reform.
Chowdery has also asked Immigration Minister Peter Dutton to take in 100 Christian refugees from Pakistan each year as part of our humanitarian program.
Prioritising Christian refugees should be a no-brainer, but the left-wing elites of the West regard the idea as Islamophobic bigotry. US President Obama once called it "shameful".
The hypocrisy is laughable.
….
Taken from: http://www.dailytelegraph.com.au/rendezview/the-lefts-bigotry-and-hypocrisy-toward-catholics-and-christians-is-alive-and-well/news-story/284e003986921189e24ea1fb19e41e04